Legends of Tomorrow – S1E3 – Blood Ties
Previously on Legends of Tomorrow, 'Pilot (Part 2)'
If you were on the fence with this show (like me), this week's episode should have gone a long way in convincing you to stick around. It did for me.
The Hawks have been the weakest link so far. Even though they have the strongest connection to Vandal Savage, they hadn't really gelled with the rest of the characters. With Carter's death last week, and Kendra spending the majority of the episode in a coma, I enjoyed this a lot more than the first two episodes.
Once again, the team split up to complete missions and it gave a few of the relationships time and space to develop.
Still in 1975, and unable to time jump without risking Kendra's life, Sara has the idea to go after Vandal's money, which they track to a super exclusive and seriously shady bank. When things get hairy, Sara shows off her assassin skills a little too well. She explains the bloodlust side effect from being resurrected and considers herself a monster. A monster who just saved Rip's ass, though.
We learn Rip still hasn't told the team everything, like how he once had an opportunity to kill Vandal, but hesitated. He's determined to not make that mistake again.
Meanwhile, Stein works with Ray to save Kendra. Fragments from the dagger are working their way towards her heart and Ray's mirco-tech is the only thing able to stop them. Stein uses a bit of tough love and a small white lie to give Ray the confidence boost he needs to get the job done.
Captain Cold and Heat Wave convince Jax to fly the Wave Rider's smaller jump ship to Central City, where Cold plans on providing his father with the item he stole back then, making it so that he never gets arrested. He's hoping he can stop his terrible childhood from happening. Cold learns that some things are meant to be, and the little side mission provides Jax the time to learn that Leonard and Rory aren't as heartless as they appear.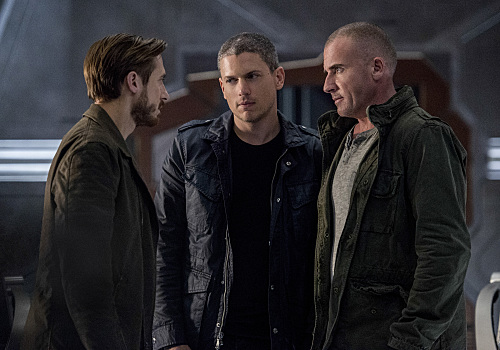 Where this show really works is watching the team in action, and we get plenty of that in the episode's final moments when they arrive to rescue Rip and Sara from Vandal and his men.
Their victory would have been super sweet if Rip hadn't slipped up and revealed his wife's and son's names to Vandal before he "died."
And just what was Vandal going to do with Carter's body?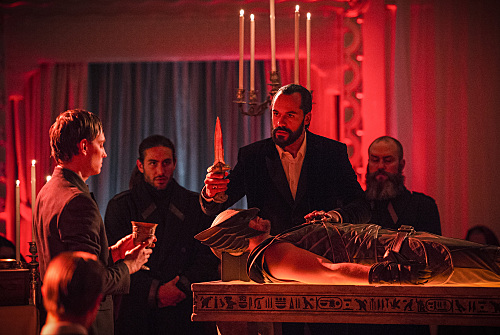 Legends of Tomorrow -S1E3
Plot -

9/10

Dialogue -

9/10

Action -

10/10

Performances -

8.5/10
Summary
Caity Lotz is a beast. She totally sells Sara as a lethal badass and she looks like she's having a blast doing it.
Wentworth Miller and Dominic Purcell are so good together. They're delivering the comic book, over-the-top'ness of their characters without annoying or cheesy.
But I'm gonna need them to stop giving Vandal vital information every time they encounter him.