Legends of Tomorrow – S1E7 – Marooned
Previously on Legends of Tomorrow, ''Star City 2046'
Rip is feeling pitiful because it's been a week and they have no leads on Savage's whereabouts. He spends his time holed up in the captain's quarters watching hologram messages from his wife and son. Meanwhile, Rory is restless and wants to set something, anything on fire. He's also still up in his feelings from that time Cold knocked him out.
A distress signal from another time ship is almost definitely a trap, but since Gideon requires updated software to effectively track Savage and the stranded vessel may have it, the team decides to risk it. While Rory, Jax, Rip, and Stein take a jump ship to investigate, the others are left behind with Ray serving as the captain.
The ship really was in danger, but by the pirates who sent out the signal. They're hoping to use the Wave Rider to get away, but Rip refuses to negotiate. Through some clever coded messages, Rip gets Gideon to take evasive maneuvers and to fire upon the pirated ship. When they fire back, the Wave Rider suffers a hull breach which poses a threat to everyone on board. Ray suits up to deal with it and almost dies in the process.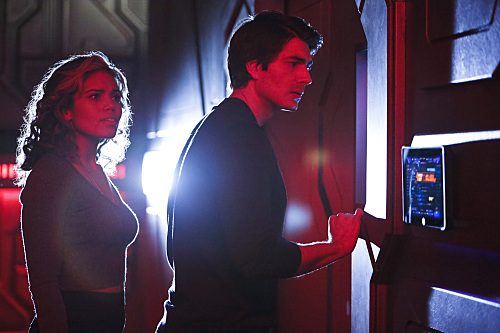 In a shocking betrayal that we really should have seen coming, Rory escorts the pirates on to the Wave Rider, and battles Sara and Cold for control of the ship. Once he and the pirates are defeated – thanks to the team doing what they each do best and Rip pulling a move he learned from his wife – the captain of the commandeered ship gives Rip the info he needs to track Vandal's next move as a thank you.
Kendra realizes she does have feelings for Ray and kisses him. Later, everyone wonders what to do about Rory. Dropping him off in 2016 is out of the question as he'll most likely take out his revenge on their loved ones. In the end, Cold takes Rory out to the middle of nowhere and kills him.
LoT S1E7
Plot -

9/10

Dialogue -

7.5/10

Action -

10/10

Performances -

7.5/10
Summary
I don't know if Rory is really gone (I suspect so simply because there's no way in hell the team could ever trust him again), but if he is, I kinda hate this. I understand, but damn. I enjoyed watching Dominic Purcell and Wentworth Miller work together again. They always seemed like they were having the most fun with their characters, and they had some of the best lines.
The lack of updated software was a fairly simple plot device, but the action aboard each ship more than made up for it. As always, Stein is really making the most of these adventures and it was cool seeing him be the unexpected hero without being merged with the younger and stronger Jax.
The flashbacks to the sacrifice Rip's wife made so they could be together (she voluntarily left the Time Masters training program after their forbidden affair came to light) did move the needle a bit in making me care for him and what he's fighting for. And Gideon was extra sassy in this episode. I loved it.
Just last week I said the show didn't really need romance, but once Kendra kissed Ray, I didn't hate it. And it's always a pleasure to see Callum Keith Rennie (Battlestar Galactica), and he was great as the leader of the space pirates.