DC's Legends of Tomorrow – S2E5 – Compromised
Previously on DC's Legends of Tomorrow, "Abominations"
DC's Legends of Tomorrow – S2E5 – "Compromised" | Starring: Victor Garber, Caity Lotz, Arthur Darvill, Franz Drameh, Brandon Routh, Dominic Purcell, Amy Pemberton, Nick Zano, Maisie Richardson-Sellers 
Legends does itself a huge favor when it allows the team to work in smaller groups, often in unconventional pairs (not hard to do considering the make up of this motley crew), so that the characters can expand upon their relationships. Everyone has a personal interest in being a Legend and seeing the team is successful, even if they all didn't start with such noble intentions – looking at you, Mick Rory. This week, the episode title hits on several levels, with almost every character being compromised in one way or another.
Sara's personal vendetta comes to light when the Legends track Damian Darhk to 1980s Washington D.C. Besides the guaranteed major consequences that would come from killing Darhk 30 years before his time, Stein reminds their captain that she's no longer an assassin. She must lead by example if she's going to live up to the position they asked her to take. The was a great moment for the team as a whole, but also for Sara. This was her first real test at leadership that didn't involve devising a fight strategy. Could she put aside her personal quest to do the right thing? She proves she can when she opts not to kill Darhk, but scare the crap out of him as she lays out how unsuccessful he'll be in building his ark right before he dies. Of course, this is also a tad problematic, because now Darhk know time travel is a thing.
While investigating Darhk's connection to the Reagan presidency and Russia, Stein once again encounters his younger self, this time as he's neglected to spend time with his wife Clarissa on her birthday. Graeme McComb does an excellent job capturing Victor Garber's speech and mannerisms as Stein. How many people wouldn't love to tell their younger selves to slow the hell down and appreciate what you have? Not sure how young Stein walking around with all this future time travel makes much sense, but it's still a joy watching Stein interact with his younger version.
Mick's budding friendship and partnership with "Haircut" takes a major step forward when the two realize Ray really shouldn't try to be Captain Cold. For one, he's not, and if Ray is going to find his place in the team without his suit, he can't do that by attempting to be someone else. Also, Mick admits it's too hard for him to be reminded of Leonard. He was one of a kind and irreplaceable. Just do you, Ray. Do you.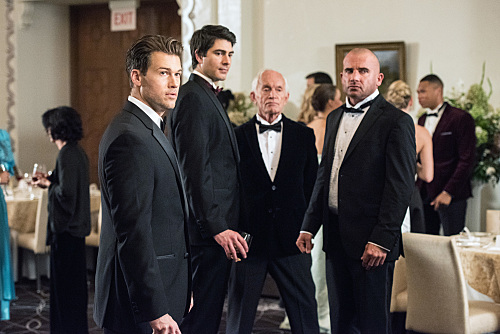 Amaya is forced to confront the past she left behind in pursuit of Rex's killer. In 1987, the JSA is no more, but Todd Rice/Obsidian (Lance Henriksen) tracks Amaya after she and Nate visit the abandoned JSA training facility. In explaining why she left, Nate figures out that Rex and Amaya were a couple – that explains why someone so disciplined and by-the-book would leave her team to travel through time. Reconciling what she did and why she did it with Rice allows Amaya to finally open up and not keep her current team at arm's length.
Now that the Legends know Darhk's time-traveling partner and Rex's murderer is a speedster – and now that Darhk knows about time travel and goes into the Speed Force with Thawne – it won't take them long to reach out to Barry Allen for help. And hopefully we'll soon learn what was in future Barry's secret message.
Legends of Tomorrow S2E5 = 8.9/10
Plot -

9/10

Dialogue -

8/10

Action -

9.5/10

Performances -

9/10