Supergirl – S2E1 – The Adventures of Supergirl
Previously on Supergirl
Supergirl – S2E1 – "Adventures of Supergirl" | Starring:  Melissa Benoist, Chyler Leigh, David Harewood, Mehcad Brooks, Jeremy Jordan
This Looks Like A Job For The Both of Us
With National City no longer under the threat of aliens trying to destroy the Earth, Kara and her closest friends (at least the one's who know she's Supergirl) take some time to celebrate. The festivities end when a mysterious pod falls out of the sky. Supergirl and Martian Manhunter go to investigate and find a pod similar to the one Kara landed in. There's a man inside with Kryptonian like powers, at least the invulnerability. However there's another issue that requires their immediate attention. The Venture spaceship has launched, but is crashing back to Earth. While Kara is having an awkward in home date with Jimmy, she sees the catastrophe on the news and flies out to the scene. At the same time, in Metropolis, mild mannered reporter Clark Kent sees this happening.  Clark Kent gets to the nearest phone booth… I mean, back alley and changes into Superman and flies to the scene to team up with Supergirl to save the day.
After a season of text messages and shadowy figures, Superman is finally revealed. They will have plenty of time this season to sway my initial feelings, but I'm a bit underwhelmed. Superman's physique appears smaller than how I picture him. However the look of Clark Kent is spot-on because no one would assume he was the Man of Steel.
You Wouldn't Be Asking Me If My Last Name Was Smith
The Venture spaceship was sabotaged and there is one high profile passenger who was conspicuous by her absence from the ship. That high profile individual is none other than Lena Luthor. Clark and Kara go to L Corp to ask Lena a few questions. Winn tells them Lena wasn't behind the crash. Lena was the target. This is confirmed when John Corben attempts to kill Lena using drones. The Super cousins thwart that attempt. Corben tries again in a more hands-on approach by attempting to shoot her at point blank range. This time, Alex shows she learned a few new moves since moving to The CW by mixing it up in some close quarters combat with Corben. Corben gets the upper hand on Alex and has her at gunpoint, but Corben is shot in the back by Lena and is severely wounded. Lena's marksmanship makes the papers and hopefully it sends a message to her brother, Lex, that she won't be killed so easily.
You're Doing That Thing You Do
With a season to build on their relationship, I am feeling the Alex and Kara sisterhood. Alex called Kara out on her over eagerness in dating Jimmy. So when Kara pushed Jimmy not to the phantom zone but to the friend zone, we could see it coming. It seemed it was for the best because I just wasn't buying them both having those type of feelings for each other. If that's where the writers want to go with the Kara and Jimmy eventually, they need to give them some better opportunities to show the chemistry is there. Kara also lets Cat know (after an episode worth of soul searching) she wants to join the "family business" and become a reporter.
Previously on…
Obviously Supergirl is going to draw a lot of its characters and plots from the comic book source material. However, last season Supergirl pulled a lot from other media based off of those comic books. Some of those were subtle and there were a few that were more blatant. So in this section we will point out a few of those throughout the season.
This episode's title is paying homage to the show Adventures of Superman starring George Reeves.
Flarrowverse Tie In
Since Supergirl has moved to The CW speculation has run rampant about how this show will tie into the Flarrowverse – the shared television universe  DC shows Arrow, The Flash, and Legends of Tomorrow share.  With those shows they often mention each other's characters, plots, and they team up from time to time.
The only mention of the Flarrowverse in this season premiere was in the intro recap where they showed Supergirl meeting The Flash last season.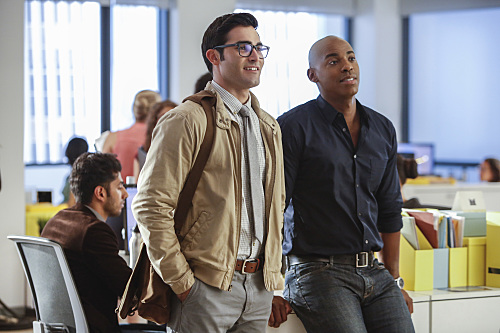 Supergirl S2E1
Plot -

7/10

Action -

8/10

Dialogue -

5/10

Performances -

7/10
Summary
Let's put it like this: aside from the improved action sequences there aren't a lot of notable changes from last season. Depending how much you enjoyed this show from last season take it how you will. There are some interesting seeds the show has planted. Lex Luthor won't stop trying to kill his sister Lena after this setback, right? And it can't be just as straightforward as Lena has a villainous look in her eye. The Mettallo, and more so Cadmus reveal, should be an excellent thread to follow throughout the season. How will the passenger in the Kryptonian pod Supergirl and Martian Manhunter found will play into the season? Speaking of J'onn, the beef between him and Superman has to lead to them slugging it out! I am so here for that! Other than that, hopefully the chemistry between some of the important players on the show gets better because some of the interactions are a bit cringe worthy, especially when compared to other DC comic based shows on The CW. Are you excited about anything else this upcoming season? Let us know in the comments.