The Flash – S2E11- The Reverse-Flash Returns
Previously on The Flash, 'Potential Energy'
The Patty No-No Tragedy
I have never been a fan of Patty Spivot. I maintain that they wrote her like Felicity, like that chick on New Girl, like a woman-child who doesn't actually exist in nature, but like a woman the writers think guys who watch shows like The Flash would like.
And it's bullshit.
They took the ONE thing that made her interesting (getting into law enforcement to find the meta-human who killed her dad) and fucked it right up by having her admit that she was pretty much ready to kill him in cold blood and knew she'd get away with it because she's a cop.
Add to that there was ZERO romantic or sexual chemistry between the actress and Grant Gustin, and I was just ready for her ass to go. To Star City. To the grave. Through a breach to Earth-67. Anywhere but here.
And I got my wish last week when they not only wrote her off the show, but they made her kinda likable in doing so. Patty was sick of Barry's shit. The character always felt like she should have been more mature than Barry – though she never really acted like it (see: Felicity, New Girl, I'm so quirky I can't even get out of my own way, etc.). But last week, she made some grown-ass woman decisions.
"Look. You play too much. You keep cancelling dates, showing up blind to dates and lying, lying about being sick, leaving me to die at fancy parties. What the fuck, Barry? And we gotta do it in your foster dad's house with your life-long crush right down the hall? What are you? 12?"
#Bars
Then for some bizarre reason, they decided to keep her around for one more episode so she could be thirsty-as-fuck.
First, she shows up at Barry's lab and desperately wants him to ask her to stay, but he won't. So she plays it cool and leaves.
Then she shows up AGAIN. And she learns Barry helps out at S.T.A.R. Labs, which is something she should have known, but.. whatever. She wants to know why he's being "like this" and he's all "my life is complicated," and she walks out crying. Again.
While saying goodbye to Joe, she brings up how weird Barry is being and then point-blank asks Joe if Barry is The Flash. And Joe says no, but she doesn't buy it. Joe tries to warn Barry and says maybe he should tell Patty, but Barry is being stubborn.
THEN she texts Barry and he doesn't answer so she waits for him in his office. Like a fucking creeper.
She basically tells him it's okay that he lied, but everything will be fine if he'll just say he's The Flash. She'll stay. And Barry is like, "Nope."
Girl.
Girl.
From Tumblr
STAHP. This is sad.
On her way out of town, Patty calls Barry from the train and says there's a man with a gun. He arrives as The Flash and gotcha! Just playing. She just wanted to prove that she was right, and he's a liar, but she's not even mad and they say goodbye and I cannot.
I bet, if Patty dated a black guy in high school, his mama said about her, "Tell that girl to stop playing on my phone!"
I mean, who does that?
Crazy-ass Patty NoNo, that's who.
The Reverse-Flash Origin Story
The mysterious death of Turtle puts Team Flash back to square one. Figuring out how to close the breaches seems a bit useless without knowing how to stop Zoom. So, Cisco wonders if figuring out how his power works might be of some help. Wells realizes Cisco's trigger is fear, and makes the poor guy shit himself by walking up on him in the Reverse-Flash suit. It works, and Cisco learns what we already knew: The Reverse-Flash is back.
In their first confrontation, Barry is unable to stop RF from snatching up Dr. McGee from Mercury Labs.
Back at S.T.A.R. Labs, Wells draws circles on the board which is what they do when the show wants to explain science.
Wells makes Cisco some vibe glasses and helps him control his power. Cisco is able to see RF kill Dr. McGee and then jump through the time portal he forced her to build. They quickly realize what Cisco saw was the future, and race to find out where they are.
Barry saves Mr. McGee, destroys the tachyon device used to stabilize the portal, and then chases down RF and beats the shit out of him. Into Central City's Gitmo he goes.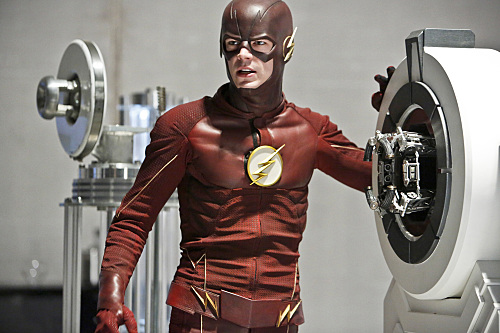 Barry wants to go down there and monologue, but Wells warns that they can't tell him anything he doesn't already know – especially Barry's name. Cisco doesn't listen and goes to peacock. "I stopped you. I have powers. You gave them to me. And I used the powers you gave me to stop you. And you're going to rot in the cell you helped me build."
All.the.fucking.tea.
He doesn't have much time to regret that decision because Cisco becomes violently ill. Messing with the timeline is affecting Cisco and if Barry doesn't send RF back to his time, Cisco will die. And damn if Barry doesn't think about that for about 45 seconds.
Reverse-Flash is intrigued by Wells' plan to get him back home, but Wells won't reveal anything about who he is and why he's helping. Barry and his nemesis run through the particle accelerator until the time portal opens and then Barry throws his ass through like he's in the Olympics and going for the gold.
The day is saved! Big Belly Burgers for everyone!
Jay is Shady AF
Barry sees Caitlin looks stressed and tells her they will get Dr. McGee back and Caitlin is like, "Oh, I'm not thinking about that. I'm worried about Jay." Because Caitlin is selfish. She's probably still low-key shitty that Jay has the nerve to be dying after he knows how she feels about people dying. (Hint: She doesn't like it.) She tells Barry her plan to get Jay's Earth-1 self to give Jay some healthy cells. I think Caitlin is seriously overestimating how much people not named Caitlin like Jay, but okay.
Jay takes Caitlin to see his Earth-1 doppelganger, a man named Hunter Zolomon, who doesn't even know Jay exists. As they watch Hunter chilling on a park bench, Jay explains that Hunter's DNA won't work because Jay's was altered and the only way to save him is to stop Zoom. Which is shit we already knew.
And either Hunter Zolomon is an easter egg or we'll be seeing him again.
Bye-Bye, Francine
Francine has taken a turn for the worst, and she's the real MVP. She handles dying with such grace. Iris gets to spend some time with her mother and even forgives her.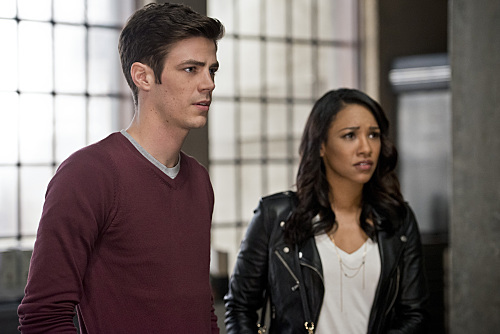 Iris confronts Wally about not visiting their mother. Turns out, he's still pissy about not knowing he had a father and sister. Iris is like, "Boy, if you don't get over it. We all got a sob story." Then she drops the dead fiancee card and makes Wally feel awful.
Wally later stops by the house and asks if Iris will go with him to see their mother. Iris agrees.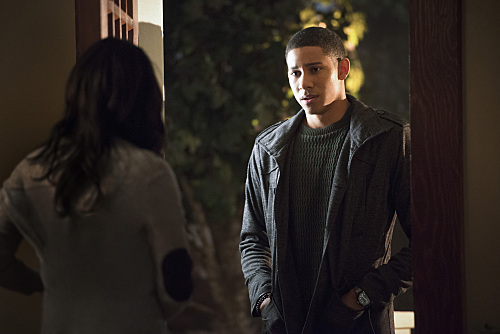 The Flash S2E11
Plot -

9/10

Action -

10/10

Dialogue -

9/10

Meta-Humans -

10/10
Summary
I found it curious that Iris didn't know about the man who cost her Eddie was back (for the first time), but in retrospect, she had enough to deal with and it would have felt way too much like having to get over the fact that Harry isn't their Wells.
I'm glad they addressed Cisco's power and how inconsistent it has been. Not pinning it down allows them to use it whenever and however they want, but it didn't make sense that four characters who are all about science wouldn't at least try to understand it better.
However, they're being super vague about what the hell is wrong with Jay. And as I suspected, they've purposely kept characters from inquiring about their alternate selves because they needed it to come up now that Jay's doesn't share his name. Speaking of which, Hunter Zolomon has to be shady, right?