The Flash – S2E13 – Welcome to Earth-2
Previously on The Flash, 'Fast Lane'
There wasn't a damn thing wrong with this episode. Millicent Shelton directed the hell out of it.
I'll have to use this piece for my podcast notes, so I'll be doing a scene-by-scene breakdown.
Welcome to Earth-2
Barry closes the remaining breaches except for the one at S.T.A.R. Labs. There's only one thing left to do before leaving: lasagna dinner with the family. Barry assures Iris his leaving isn't a desperate, reckless mission because he has nothing in his life. He'll be back.
Through the breach Barry, Cisco, and Wells go, but as soon as they're gone, the breach suffers an overload and breaks down. Seems it couldn't handle all that juice with the other breaches closed. And if that wasn't enough for Caitlin, Jay, and Joe to deal with, there's a new meta-human (Adam Fells a.k.a. Geomancer) running around town being an asshole and calling out The Flash.
(Let's talk about those looking glass easter eggs on the podcast, yeah?)
On Earth-2, after the required selfies and a run-in with the comically not-evil Henry Hewitt (a.k.a. #NotAllMen Firestorm), Wells, Cisco, and Barry are dismayed to learn that Cisco's vibe doesn't work on Earth-2 thanks to its different vibrations.
Luckily, E2's Barry is still a CSI so he snatches him up, tasers him, and then dons his identity in the hopes of using the CCPD to track Zoom the old-fashion way.
Detective West: The One, The Only
Rocking a bowtie, glasses, and some serious nerd swagger, Barry discovers that things are different in the E2 CCPD: Deadshot is a detective and a crappy shot, Singh is a criminal who might also have been in E2's version of The Backstreet Boys, and Iris is a detective… and Mrs. West-Allen. And his wife is ready to go home.
Once there, Barry is overcome with emotion when he realizes what a lovely home he shares with Iris, when he learns his mother is alive, and when he sees Iris in her bra. Of course, he cannot resist the ability to speak with his mother again and their phone conversation was profoundly beautiful, in large part because Grant Gustin always completely nails displaying the love Barry has for his parents, Joe, and Iris.
Jay of Lies
With Geomancer terrorizing the city, Central City needs a hero. Joe wonders if Jay can take Velocity-6 in order to get his power back long enough to actually be useful.
This causes Jay to confess to Caitlin that his quest to get more speed led him to take Velocity-6, and that's what took away his speed and caused his mystery fatal condition.
I do not like or trust Jay. I can't believe Caitlin didn't call him on his lies and withholding information. 
Old Smokey Joe
The Flash finally found a way to showcase Jesse L. Martin's marvelous voice. He's a lounge singer at Jittberbugs (think: Jitters meets a speakeasy). Just as Barry's E2 relationship with Iris is drastically different, so is his with Joe. They don't like each other and Joe blames Barry for Iris being in danger as a detective since she joined the force to pay for Barry's PHD. Joe's disdain for Barry is so deep, he refers to him by his government name: Bartholomew. That's cold
Fire & Ice
Zoom may not know Wells is back (and with company) yet, but two of his henchmen (Killer Frost/Caitlin Snow and Ronnie/Deathstorm) are aware someone has come through a breach. After killing a few bank robbers and relieving them of their ill-gotten gains, they go about the business of tracking down the visitors.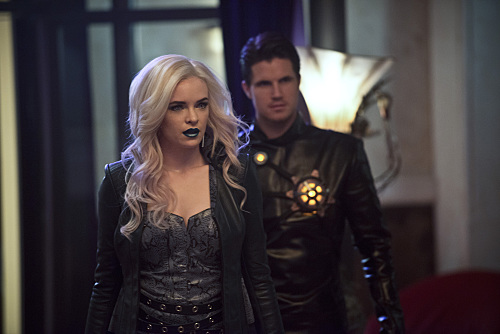 Killer Frost and Deathstorm crash the party at Jitterbugs in search of the breachers. When Iris pulls her gun, Barry tries to appeal to Caitlin as if she's the friend he knows. She is not and doesn't appreciate Barry calling her by her government name. When Joe takes a fireball meant for Iris, Barry speeds the couple away to their fight outside. He still can't appeal to Caitlin, and let's them get away in order to answer Iris' call for help.
Later, after sharing a touching moment with Iris, Joe dies in his hospital bed with Barry and Iris at his side.
Note: Wells wasn't thrilled with the idea of Barry going to be with Iris while Joe was in the hospital. He's pretty adamant that Barry needs to focus on finding Jesse as Zoom now knows he's back and that The Flash is there as well. 
Geomancer
The Velocity-7 works long enough for Jay to step in when Joe faces off with Geomancer. Unfortunately, it only allows him to get in one hit before he stumbles like Bambi trying to walk. Back to the drawing board with Velocity-8, I guess.
Ride Along
Barry convinces Iris to take Cisco (and his weapon to defeat Killer Frost and Deathstorm) along when she tries to apprehend them. When confronted by the duo, Cisco tries shaming them for working for Zoom, but their real boss immediately reveals himself from the shadows: It's E2's Cisco, Reverb.
Reverb tries to lure Cisco to the dark side, but Cisco has seen enough Star Wars to know nothing good comes from doing that. In the ensuing chaos, Iris shoots Killer Frost, and Reverb knocks down Cisco. But instead of taking Barry to Zoom unarmed, as he requested, Reverb and Deathstorm slam Barry with blows.
This all comes to a prompt and deadly end when Zoom arrives like your mother after she has told you, "Don't make me come over there," one too many times. The only life he spares is Killer Frost's; Reverb and Deathstorm get the vibrating hand through the chest/back treatment. Then Zoom takes off with Barry.
But Wait; There's More
Barry wakes up in a cell in Zoom's lair. In the cells around his are a dude with a metal on and Jesse, Wells' daughter. Barry promises to get her out, but Zoom shows up and he's like, "Nah."
What did you think of the episode? Leave your thoughts below or on our Facebook post and we'll read them on tonight's podcast for The Flash.
The Flash S2E13
Plot -

10/10

Dialogue -

10/10

Action -

10/10

Performances -

10/10

Meta-Humans -

10/10
Summary
This episode was everything I needed it to be and more. Earth-2 is clearly more technologically advanced than Earth-1, but their retro sensibilities in fashion and design is stunning.
Grant Gustin nailed every emotion expected of his character upon learning he's married to Iris, his mother is alive, and his relationship with Joe is nowhere near as loving as it is in his world. Watching Joe die was devastating and both he and Candice Patton delivered. Those moments where these characters truly feel like family are what drew me to the series to begin with.
The easter eggs were cool: Snart is mayor, and Barry and Iris have Hal, Bruce, and Diana on speed dial.
I even dug Danielle Panabaker as Killer Frost. If you listen to our podcast, you know I think she's the weakest actor on the show. She was believable as a villain, and it made hope that the series will eventually find more for Caitlin to do so she's not just chiming in on the science talk and pining over a man.
Was the purpose of Wally's short scene to show he's beginning to care about Joe?
Who's the guy in the mask in Zoom's lair? Earth-2 Eddie since Earth-1 Eddie is Zoom and has been posing as him on Earth-2? That's my theory. But of course he's probably another easter egg from the comic books that I'm not aware of.