The Flash – S2E14 – Escape From Earth-2
Previously on The Flash, 'Welcome to Earth-2'
Now that Zoom has Barry, all he needs is Wells to drain The Flash of his speed. Zoom makes it rain paper threats telling everyone to bring Wells to him. He does this perched above the city on a rooftop like some creepy-ass gargoyle.
Cisco makes it back to S.T.A.R. Labs, which Wells has ordered evacuated. He's got Reverb's glasses and wants to use them to track Zoom, but Wells thinks they need to be getting on the hot foot. Earth-2's Barry's cries for help halt the debate. They let him out, he demands answers, but that too is put on hold once Zoom arrives. The three hide behind a secret wall in Wells' time vault, barely escaping Zoom.
Barry in a Box
The man in the iron mask continues to tap on his cell glass. Since he's been there since Jesse arrived, she's pretty much over his knocking, though Barry thinks the man is trying to communicate with them. He tells Jesse not to doubt her father; he'll find them. Zoom, who must stay eavesdropping in the hall when he's not littering the city with wanted posters and bodies, appears and tells Barry that everyone is going to die. Again.
Jay, Iris (E1), and Both Barrys Get The Job Done
Jay has managed to stabilize the breach, but he's twitching for more Velocity. Caitlin almost has #8 ready, but since the prior serums have continued to damage his cells, she hesitates to give him anymore. He insists, citing that the city needs someone to stop Geomancer.
Iris meets her new boss, who immediately tasks her with writing a story about how unreliable The Flash has been. She manages to sell him on a story about Jay Garrick (or "the other Flash") instead.
Back on Earth-2, Barry tells his wife about the switch in his lab at the police station. They wonder how they can track Zoom and Iris suggests getting one of his meta-human minions to help. Cisco lands on Killer Frost and believes they'll have a shot convincing her since Zoom killed Deathstorm. Once they locate her, Barry insists on going with them.
Caitlin finishes her work on Velocity-9 just as Iris arrives asking Jay for an interview, and he agrees to think about. Geomancer attacks again, this time a hospital, and challenges Jay on live television. Jay takes Velocity-9 despite not knowing how long it will last. Turns out, it lasted just long enough for Jay to rescue the people in the hospital and get back to S.T.A.R. Labs before crashing on the floor.
Dick in a Box
The masked man taps out JAY and Barry asks if it's about Jay Garrick. The man in the mask nods, but gets frustrated when Barry assumes he is asking about The Flash (Jay) coming to save them. Barry calms him and asks that they keep trying. Before the man can tap out JAY IS SHADY AS SHIT; DON'T TRUST HIM, Zoom stops eavesdropping and makes his presence known. He reminds mask man that snitches get stitches and then phases into Barry's cage just to whip his ass again. It's not a complete loss, though, because Barry believes he just figured a way out of his cell and he owes that to Zoom.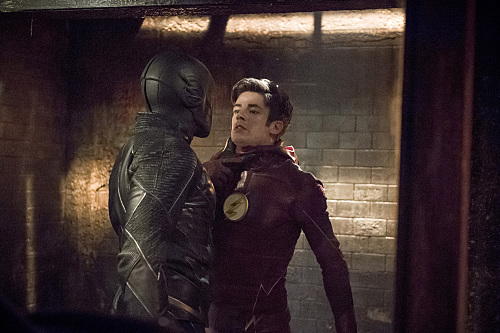 The rescue squad tracks Killer Frost to the woods and asks where they can find Zoom's lair. Since she's not trying to killed on her day off, she declines… at first. But after a bit of shooting (Killer Frost), dodging (everyone else), and screeching (E2's Barry), Killer Frost is subdued. Cisco touches on a few of Caitlin Snow's feels, and she agrees to take them to Accession Cliffs.
E2's Barry drops some more serious nerd swagger and won't even hear of not being by his wife's side for something so dangerous.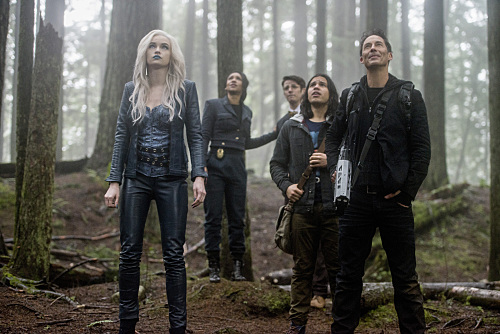 If Jay Didn't Have Bad Luck…
Jay's taking his disco nap and absent from the cortex when Caitlin reveals she's found a cure for Jay. She calls for him to come to the cortex, but Geomancer gets there first.
Okay. The lack of security is no longer funny at this point. And how the hell did he know where to find Jay? He shakes things up (heh) and threatens to topple the whole building, but Caitlin shoots him with a meta-human dampener.
And Jay slept through the WHOLE THING. Shady ass.
When they're alone, Caitlin explains how the cure works to Jay. Good thing they have it because Jay will need his power to fix the breach again since Geomancer damaged it with his antics. While he creates a vortex inside of the the platform, Joe hits outside switches. With Velocity-9 running out, they manage to fix the breach just in time.
Fast Enough
If Zoom can phase through the cage, why can't The Flash? Well, because of the Earth's vibrations, which Jesse figures out.
The rescue team arrives, and Killer Frost uses her powers to break Jesse free from her chains. Her power is useless against Barry's carbine cell, though. Barry orders everyone to leave, but E2 Barry hits The Flash with some of that powerful #BlackFatherhood he probably picked up from Joseph. Barry believes he can do it, so he does.
Barry refuses to leave with the man in the mask and arguing about it makes it so that they're still there when Zoom returns. It was a trap by Killer Frost, and Zoom is about to make good on his promise to kill Jessie in front of Wells when Killer Frost knocks him down with a blast of ice. This definitely makes sense as we learned with Captain Cold's gun that ice is a weakness when you have The Flash's speed. Killer Frost keeps covering him with ice as she tells everyone to run. Cisco was right about her wanting some revenge on Zoom for killing Ronnie.
Wells knows he and Jesse need to go to Earth-1 for their safety and Jesse responds like a teenager whose parents just told her they're moving to another state just before junior prom. Girl, why are you worried about friends? You've been in a cell for months.
Barry takes Cisco and Jesse through the breach, but finds Zoom has Wells when he returns to Earth-2. Wells stabs Zoom with one of his serums, which allows Barry the chance to grab him and jump through the breach. Jay tosses in the cylinder to close the breach, but before he does, Zoom reaches through, punches Jay through the chest and pulls him in.
The Flash S2E14
Plot -

8.5/10

Dialogue -

9/10

Action -

8.5/10

Performances -

9/10

Meta-humans -

9/10
Summary
This episode wasn't as good as last week's intro to Earth-2, but it was pretty damn good. I'm not a fan of the "the power was inside of you all along, Barry Allen" resolution to Barry being trapped in the cell, but that is my only real complaint.
More than any other, this episode seemed to go out of its way to cast suspicion on Jay (at least for the viewers), so the events at the end of the episode are extra shocking. I still have my Zoom theory (and a few theories on Jay), and I'll be breaking them down in a separate post within the week.