The Flash – S2E15 – King Shark
Previously on The Flash, 'Escape From Earth-2'
The aftermath of Jay's death goes about how you'd expect: Caitlin is devastated, everyone is in shock, and Barry wants Wells to re-open the breach. He can't because the (cork?) matter used to seal them can't be removed or manipulated.
"It's over," says Wells.
And he warns Cisco and Barry to keep everything that happened on Earth-2 from their friends. They agree, which means we all knew that was gonna get spilled before the hour was up.
Time Jump
In the weeks (maybe months?) following Jay's death, Caitlin dives into her work, Wells and Jesse move into Star L.A.B.S., and Barry looks for distractions.
One comes in the form of the half-man half-shark, King Shark. He's not-so-dead after all, and has just escaped from the ARGUS facility where he was being held. Diggle and his wife Lila, the current head of ARGUS following Amanda Waller's totally disrespectful demise, head to Central City to warn Barry that King Shark is still hellbent on killing him for Zoom.
Barry zones out during a West family game night. When Wally hits him with some friendly ribbing, it's clear there's tension between the two. After Wally leaves and Barry goes to bed, Joe and Iris compare notes. Barry hasn't spoken to either of them about Earth-2 and Joe thinks there's more getting to him than Jay's death (because, really, who the fuck was Jay?).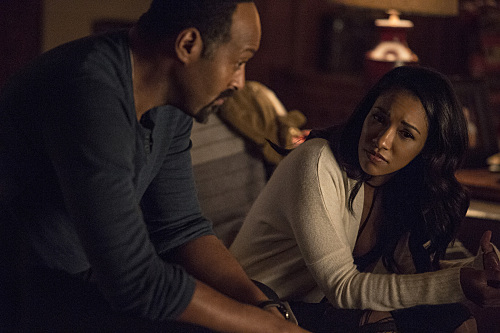 Things are also frosty between Cisco and Caitlin. She's super focused on her work and when they question King Shark's doppelganger's widow (just read it again), Caitlin is short with her and Cisco. Of course Cisco fears Caitlin, in her grief, is turning into Killer Frost. Barry points out this is a ridiculous concern.
Relationship Jumps
Barry works the Diggles and ARGUS soldiers to track King Shark (who, it turns out, shops at the same big tall store as Bruce Banner), and their first encounter ends with dead soldiers.
Joe's second attempt at getting Barry and Wally to bomd also ends in failure. First, Wally feels like Barry is taking over his school project. Then, King Shark attacks the West house and Barry's disappearance – to be The Flash and fight him off, but Wally doesn't know that – makes him look like a coward to Wally. Joe's defense of Barry just reinforces Wally's belief that Barry is considered perfect and favored in Joe's eyes.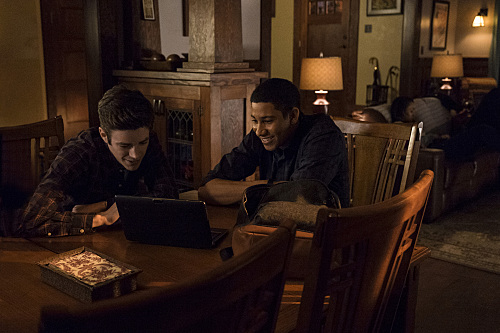 Jessie reminds her father she's damn near as smart as he is, and talks him into letting her help figure out a way to track King Shark.
Cisco finally tells Caitlin about Killer Frost and she assures him that she's not turning evil, but she's also not going to open herself up again only to get hurt.
Barry also spills the details of his time on Earth-2 to Joe and Iris. He blames himself for E2's Joe's death, Jay's death, and he feels like crap for leaving Earth-2 at Zoom's mercy.
(Thankfully, Diggle has a lot of experience dealing with a mopey superhero, so by episode's end he's gotten Barry back on track and off the pity train.)
Shark Jump
Using the widow's research, the team is able to track King Shark and design a trap. Despite what Wally said earlier, Barry can walk on water and does just that (well, runs) in order to subdue King Shark. ARGUS is different under Lila's leadership and she decides trying to find a cure for King Shark is better than trying to turn him into a weapon.
Joe meets with Wally and assures him he loves both him and Barry equally.
Barry apologies to the crew for being all up in his feelings and says they're going to figure out a way to go back to Earth-2 and stop Zoom.
Jump the Shark
Speaking of Zoom, he dumps Jay Garrick's dead body on the floor of his lair. Man in the iron mask is totally freaking out. Zoom removes his mask. Zoom is Jay.
*flips table
The Flash S2E15
Plot -

7.5/10

Dialogue -

10/10

Action -

8/10

Performances -

9.5/10

Meta-Humans -

10/10
Summary
Okay, I don't think the show jumped the shark, but I am very disappointed in this Zoom reveal. And it's not because I wrote this heavily detailed theory of Earth-1's Eddie Thawne being Zoom. I don't like it because Ray Charles could see Zoom was Jay and he's blind and dead. It was the obvious direction and I didn't want the show to be obvious. Even if it turns out that Dead Jay wasn't completely innocent (which I really think he might be considering Zoom's reaction here), Zoom is still "a" Jay and we barely gave a fuck about Dead Jay. Why should I care that this guy is Zoom? It also has a touch of been-there-done-that with last season's villain.
I'll do a deep dive into my thoughts on the Barry/Wally conflict, the Hunter/Zoom/Jay relationships, Caitlin's change, and Iris' reaction to her marital status on Earth-2.
I'm so happy Cisco is going to do something about Diggle's helmet. No more Magnegro!