The Flash – S2E16 – Trajectory
Previously on The Flash, 'King Shark'
Team Flash work to clear The Flash's good name when another speedster takes to petty crime. It doesn't help that Iris' new editor at CCPN, Scott, has been looking for any reason to publish a hit piece on The Flash and tarnish the public's perception of him.
I fully expected this episode to be filler, but surprisingly, the Trajectory storyline tied into Team Flash learning Zoom's identity. Caitlin is forced to share her work on Velocity-9 to explain how a previously unheard of speedster could exist. Once Barry gets over the fact that he didn't know about the serum sooner, he wants to take it to boost his training (which has been slow going) to get faster. Despite warnings from both Wells and Caitlin, Barry wants to level the playing field. I get it, Barry. I was also wondering why every damn speedster is faster than you.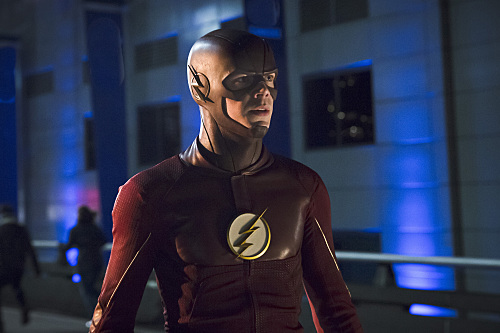 Thankfully, cooler heads prevail, but when Barry gets a look at Trajectory after she's loaded up on Velocity-9, he makes the connection between Zoom and Jay Garrick. All that's left is for Cisco to vibe Jay's helmet and the team finally knows that Jay is Zoom.
This reveal, and Barry's subsequent rage, would have been way more effective if we were all finding out at the same time. This should have been how we learned Jay was Zoom just as Team Flash did. Also, the betrayal would sting more if the show had spent any real time making us believe Jay was a part of the team. He was barely in the first third of the season as episode after episode was spent setting up Legends of Tomorrow, which is still so much fun to watch, by the way. The most Jay connected with anyone on Earth-1 (besides the offscreen escalation of his relationship with Caitlin) was while most of the team was on Earth-2. This episode was filled with revisionist history as everyone felt the need to talk about how special Jay was. Y'all barely knew him!
Additionally, one of the main reasons I didn't want Zoom to be Jay was to avoid yet another case of Barry moping about trusting the wrong people. The one bright spot is that we know there were two Jays, and Team Flash has yet to figure that out.
Jesse was given more to do this week. Her first encounter with Wally West hinted at a possible romance later on (here for it!), but it's too bad the rest of her actions made little sense. On the one hand, it was nice to see someone do more than wag a finger at Wells for killing Turtle. However, it's hard to side with Jesse when she becomes angry with her father for doing whatever it took to keep her alive. I mean, I'm 100% sure my father would put a hot one in someone if it meant keeping me safe, and I'm 100% fine with that. Her decision to leave town was also bizarre considering she presumably has no job, no money, no idea where the hell she's going, and she has a blood type that doesn't even exist on the planet.
Still, this was a very enjoyable episode as most episodes of The Flash are. The actors' chemistry was on full display and it was great seeing Iris have more to do – first being involved in the investigation into Trajectory and later having an awkward coffee not-a-date with Scott. I'm open to Scott being part of what helps Iris realize she might want to be with Barry, but not much else. I just don't like that guy.
Earth-2 Revelations
Not sure if Wells discovered him here or on Earth-2, but he's a Kanye fan.
Earth-2 has at least one blood type that doesn't exist on Earth-1 and Jesse has it. Thankfully, Wells does too so should she need a blood transfusion, he's got her covered. Good thing she hasn't left town without telling anyone where she's going.
Earth-2 Beyonce gets people in formation in her role as a state senator.
The Flash S2E16
Plot -

8/10

Dialogue -

9/10

Performances -

8.5/10

Action -

7.5/10

Meta-Humans -

8/10
Summary
Fun episode and it was great that it tied into the Zoom reveal.
Two questions: 1. Will Jesse become a speedster? She can wear Trajectory's old costume. 2. How the hell did Trajectory know about the containment cells in the accelerator's core?