The Flash – S2E19 – Back to Normal
Previously on The Flash, "Versus Zoom"
There's at least one per season – an episode that just doesn't work for me. Considering The Flash has a 23-episode season, one stinker isn't bad at all. And even when an episode disappoints, it's still better than most. And yet, I simply didn't care about the events that took place in "Back to Normal." For an episode that follows a major character being kidnapped by the season's main villain, I expected more.
Every superhero show has one episode where the hero loses his powers (with no real idea how they'll get them back) and has to learn to readjust to life as a "normal" person. For Team Flash, a powerless Barry Allen is actually a good thing. Everyone has an opportunity to step up and prove themselves a valuable member when trouble comes. And trouble always comes.
This week, Wells tracks Jesse and finds she still wants nothing to do with him. I've said before this story line is pretty weak. Sure, be horrified that your father killed someone, but you were also held hostage by a psychopath for months. If there's one person in the world who would and should take someone out to get you back, it's your dad. Jesse, have a seat. Wells indulges this, again, but when he leaves her apartment he's kidnapped by a meta-human, Griffin Grey. Grey is a high school senior who looks like a middle-aged man thanks to the particle accelerator explosion. He has super strength, which speeds up the aging process every time he uses it. He demands Wells figure out a cure. Since everyone thinks Earth-1's Wells is dead (and he is), why is this happening?
Jesse works with Cisco, Barry, Iris, and Joe to get her father back. When she's not whining about the audacity her father had to do anything to save her life, Jesse is quite likable and competent. She makes for an excellent addition, especially with Caitlin off-world. The way she and Iris were seamlessly utilized is the kind of writing many us have wanted for Iris since season one. They're both smart and gutsy. It was nice to see them helping to rescue someone instead of needing rescuing.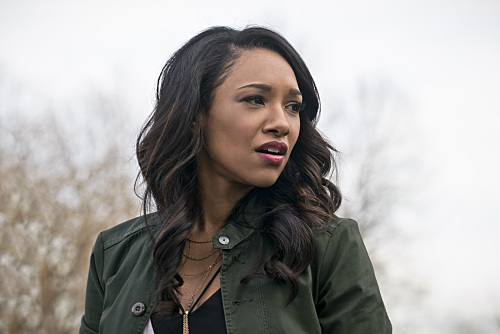 Speaking of which, it doesn't matter that Barry doesn't have his powers or that they're too distracted to think of a way to bring Caitlin back because she doesn't seem to be in much danger – Cisco reports as much when he vibes her in a cell in Zoom's lair. Hunter is a psychopath in love and has no plans to hurt Caitlin. This essentially makes Zoom a joke.
When he leaves her alone to do who-the-hell-knows-what (No, seriously. Where the hell does he keep going? Does he have a day job?), Caitlin meets Killer Frost, who survived after helping Barry escape and is now occupying the cell across from the man in the iron mask. She strikes a deal with Caitlin: Use her brains to figure a way out and Killer Frost will help them both escape. Of course, Killer Frost goes back on her word once she's free and tries to kill Caitlin, only to find herself stabbed with her own ice spear by Zoom.
I enjoyed Killer Frost a hell of a lot more than I like Caitlin, so I was sorry to see her go – even though that vocal fry crap was a bit grating.
Perhaps the most frustrating development this week was Wally West not piecing together that his foster brother is The Flash. They even went so far as to have him mix up what Zoom said about why he was taken last week. "Someone he cares about, cares about you." Wally tells Joe that Zoom said someone The Flash knows cares about Wally – he's smart enough to figure out that's Joe and wants Joe to set up a meeting with The Flash so he can thank him for his sacrifice. Maybe if he'd heard/remembered what Zoom actually said he'd figure out that his father is also The Flash's father, not just working with him.
The bright side of this is seeing Wally make the mature decision to not just thank The Flash for saving him, but he vows to not squander the second chance he was given. No more drag racing and living on the edge, I guess.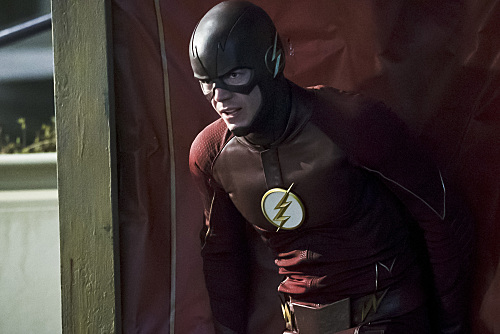 Even so, Joe doesn't tell Wally the truth and tries to talk Wally out of wanting to meet The Flash. At first I thought this was because The Flash doesn't have his powers and Joe didn't want Wally to know that, but Wally already knows (he knew the terms of his release). So, why are they still not telling him? It would be one thing if they'd written Wally as someone who can't keep a secret or someone with a personal grudge against meta-humans, but he's neither.
I suspect things will improve next week as Wells' near-death experience and desire to live up to being the kind of father Jesse's deserves leads him to suggest recreating the explosion that gave Barry his powers the first time – that couldn't possibly go wrong. And Zoom decides to bring Caitlin back to Earth-1 so she can witness him conquer it.
Highlights
Zoom phasing through Caitlin to save her life was pretty awesome.
Barry dropping these bars and not even knowing it. He tells Iris she was the first person he saved when he got his powers. "I didn't know what I could do, but I knew I could save you." #WestAllen
Tom Cavanagh acted his entire ass off this week.
Two of the three blackest line deliveries on TV this week were in this episode. Iris: "Girl, no. That's not common anywhere." And Joe: "Cause they crazy." (The blackest delivery goes to Strand on this week's Fear the Walking Dead: "I know you not running on my deck.")
The Flash S2E19 = 7.5/10
Plot -

6.5/10

Dialogue -

8.5/10

Action -

7/10

Performances -

8.5/10

Meta-Humans -

7/10