The Flash – S2E2 – Flash of Two Worlds
Previously on The Flash, 'The Man Who Saved Central City'
How, Sway Jay?
Jay Garrick spills out everything we've already known: The world is in danger because Barry opened a breach between his world and ours. And now meta-humans like Atom Smasher are line-stepping like crazy. Jay knows all of this (including everyone's names) because he's The Flash in his world. Zoom was about to kill him when the breach opened, sucking him and his fancy helmet through.
Barry is hating almost immediately and says Jay needs to run through a bunch of tests before they'll accept his help. Meanwhile, Zoom lands in this world with a man, who has to kill The Flash in order for Zoom to take him back home.
While Caitlin examines Jay (and gets the tea on his life on his Earth; he got his powers much like Barry did), Stein explains parallel universes to the gang by drawing a bunch of circles. I mean, I get that Joe and Iris aren't scientists, but the concept was pretty damn simple. Either way, Joe may not understand what his alternate self is, but he knows his own self has bills to pay so he takes his ass back to work.
Trust Issues
Caitlin reports that while Jay has regenerative properties, he has no signs of being a speedster. She also low-key gave him a lie detector test because civil liberties don't transfer in multiverse travel. He totally passed. Barry is not impressed and wants more digging before deciding to trust him.
Meanwhile, Joe is ducking calls. Must be those bills.
Patty Spivot, an officer in uniform, wants to join Joe's Meta-Human Task Force, which kinda sorta doesn't really exist anymore because everyone quit. Also, all of Joe's partners are dead… except one. Anyway, despite a bunch of credentials and a perky disposition, Joe tells Patty:
Jay gets his very own particle accelerator cell. He understands why Barry is cautious, but warns they really don't have time for this. Barry rushes off to answer a call about a fire.
Barry puts out the warehouse fire and is promptly attacked by the man Zoom dropped off. He's a meta-human who can turn his body to sand. Unable to wrap his mind or his hands around it, Barry races off.
At the crime scene the next day, Barry gives Joe the lowdown: it was arson. Patty shows up because…. I guess? She's a big fan of Barry's, having read all of his forensic reports. Oh, Patty was actually there doing some work. She found the origin of the fire and got a fingerprint. Joe is still like:
While Jay runs the treadmill, Iris and Caitlin watch and Iris makes a way too soon remark about Caitlin possibly being attracted to him.
When Jay learns of the meta-human, he explains that he's faced him before. He doesn't know his real name, but he's called Sand Demon. He has ideas on how to stop him, but Barry still doesn't want his help and orders Jay back to his cell.
Stein and Cisco say some science stuff and come up with a way to locate the breach. When Stein leaves the room, Cisco has a vision of Barry fighting the Sand Demon.
Joe tracks the print Patty found to a man named Eddie Slick. When Eddie spots Joe outside of his apartment, he runs for it but is stopped by Patty.
No, seriously. Why is she doing detective work? 
Joe interrogates Eddie, who claims he's not responsible for the fire the night before, he's not a meta-human, and he was in jail during the particle accelerator explosion. Barry and Patty watch from the next room and Barry offers to put in a good word for her with Joe.
I'm such a hater. I hate her.
Back at the Labs, Barry is unwilling to believe that Eddie might from another world nor is he willing to believe Jay. Iris asks everyone to leave the room so she can jump in that ass real quick. She knows Jay reminds Barry of Wells, but tells him not everyone is going to betray him like Wells. His team needs to know he trusts them.
Outside the police station, Joe lets Eddie go with a warning to never show his face 'round those parts again. Like, dude, YOU arrested him. Patty does more begging, Joe does more dismissing, and Eddie comes walking up like Joe didn't just tell him never to come back.
Well, he didn't, because it isn't this world's Eddie. It's the Sand Demon. After knocking Joe out, he makes off with Patty, who fired about fifty-'leven shots without one cop showing up right outside the police station!
Sand Issues
Because Patty was taken, Barry finally accepts Jay's help – and that includes learning how to throw lightning from the energy he creates when he runs.
Patty starts asking questions and talking shit while being tied to a chair and Eddie works on a concussive bomb. She warns him that he'll get caught and tells him getting powers doesn't make him special. Well, it kinda does.
Desperate to figure out where Sand Demon is, Cisco tries to deliberately tap into his power. It works and he gets the location, but lies to Stein about how he knew.
Barry trains to throw lightning, but after an hour it's not working. Jay coaches him through it. Barry finally admits that the last man he trusted killed his mother. Jay assures Barry he's not Wells.
Cisco tells them the location and adds a warning that Sand Demon might use a concussive bomb. Stein side-eyes Cisco. Barry wants to use Jay as a diversion, but Jay'll need his suit… and his helmet. He's in luck!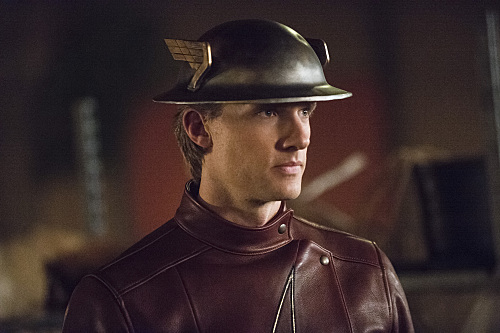 The plan is for Sand Demon to beat Jay's ass long enough for Barry to save Patty from the bomb's blast, and then whip himself up a lighting bolt to turn Sand Demon to glass. Well, I don't know if that was the plan, but that's what happened, leading to this recreation of an iconic comic book cover.
Caitlin patches up Jay and gives him a pep talk about moving on after a great loss. Barry admits he was wrong about Jay and then the two talk about Zoom: he basically sounds like Reverse Flash, but in blue.
Mommy/Daddy Issues
Joe gets Patty to admit that she really wants on the task force because Mark Mardon killed her father. Just like that, Patty gets a promotion.
Joe is stopped in the lobby by the woman whose calls he's been ducking. It's Iris' mommy!
Cisco admits what's happening to Stein, but makes him swear to keep it a secret. He doesn't trust his power because it came from Wells.
Stein explains all the science stuff from earlier to the gang, and reveals they've found 52 breaches, with a large one under S.T.A.R. Labs. Before he can say more, he passes out.
But Wait; There's More
On another Earth – which seems way more technologically advanced than ours – a group of girls scouts are on a tour of S.T.A.R. Labs are lucky enough to run into the Labs' founder (The Savior of Central City), Harrison Wells.
He steps from that elevator looking like bae!
Leave your thoughts on the episode below and we'll read them on tonight's The Flash podcast!
The Flash S2E2
Plot -

7/10

Dialogue -

9/10

Action -

7.5/10

Performances -

8.0/10
Summary
Knowing so much of what was going to happen really tainted this episode for me. Everything Jay Garrick revealed, we already knew, and watching the characters learn wasn't that interesting. Barry's mistrust made a lot of sense and it was cool seeing Iris be the one to bring him around. Cisco resistance to tell the others about his power makes little sense. The reveal of Iris' mother would have also been better received if the news she was coming in episode 2 hadn't been disclosed more than a week ago. The most interesting thing about Patty is the fact that Mardon killed her dad, and Mardon is still at large.