The Flash – S2E20 – Rupture
Previously on The Flash, "Back to Normal"
Now we know why Henry Allen had to be all deadbeat daddin' it since episode one of this season. Because the moment he heard Jay Garrick's last name, he'd have mentioned that his mother's maiden name was Garrick. I'm sure Team Flash would have responded much the way Barry did when he found out: mild interest and then quickly moved on to something else. But we would have definitely started side-eye'ing Jay sooner than we did. And the mystery of the Man in the Iron Mask wouldn't have been much of a mystery at all. Anyway, we know this is true because less than ten seconds after mentioning his mother's maiden name to Barry, Henry is back in Central City and ready to stay.
Once Barry makes up his mind, there's little chance anyone will be able to change it. However, before he knows what he should do, Barry will seek the advice of those closest to him. Enter Henry, who's not down with Wells' plan to recreate the particle accelerator explosion in an attempt to return Barry's speed. Joe isn't as opposed, but he also trusts Barry to make the right decision. It would also be weird for him to weigh in too heavily as Barry only gave up his speed to save Wally's life.
In a moment many fans have been waiting for (especially me, at the front of the line that hasn't moved since S1E15), Iris makes sure Barry understands that she doesn't care if he's The Flash. She cares about Barry Allen and she's been thinking about a future with him. I'm hoping Barry's lack of proper response was due to shock and not that he's no longer interested in Iris romantically. 'Cause, boy, when a woman who looks that damn fine in leather pants tells you she wants to be with you, you really need to muster up some words. Shit.
Still, Barry decides he's not going to risk the lives of everyone else in Central City just to get his speed back. He maintains this stance even after Zoom arrives and Debos the entire police station. He maintains this stance even after a meta-human from Earth-2, Rupture, arrives and attacks Cisco and his brother Dante.
Zoom told Rupture that Cisco (Vibe) killed his brother, Reverb. That's right: Earth-2's Dante is a meta-human with a badass scythe and attitude to match. This leads to Cisco finally admitting to his brother that he's a meta-human, and ultimately fuels a reconciliation between the brothers at odds. I'm hoping this means we'll get more Dante – but we probably won't. Also, I don't call out how wonderful Carlos Valdes is nearly enough. He brings so much humor to the show, but also a lot of heart. It's easy to forget that when you're laughing at his one-liners and pop culture references.
Zoom instructs Rupture to put his quest for vengeance on hold once he learns the CCPD is still operating out of Jitters. When Rupture fails, Zoom kills him and several police officers on live TV. Then he outs The Flash as a hologram created by Cisco and Barry to keep The Flash's lack of speed under wraps.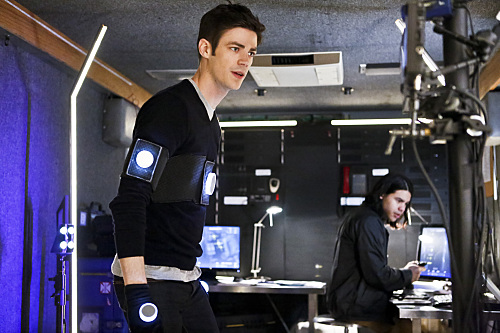 Zoom is the pettiest motherfucker to ever petty.
This is enough to put Barry into Wells' particle accelerator reconstruction, but it doesn't go as planned. Barry… ruptures and disappears. The dark matter isn't contained and knocks both Wally and Jesse out. Y'all know Wells will be blamed when they wake up as speedsters, but no one told those two to leave the safety of Wells-Thawne's evil time vault.
Then Zoom drops by to thank everyone for killing Barry for him.
I told you. Petty AF.
What did you think of the episode? Leave your thoughts below or on our Facebook post for this review and we'll read them on tonight's The Flash podcast. 
The Flash S2E20 = 9/10
Plot -

8.5/10

Dialogue -

9.5/10

Action -

8.5/10

Performances -

9/10

Meta-Humans -

9.5/10