The Flash – S2E21- The Runaway Dinosaur
Previously on The Flash, "Rupture"
I wanted to love this episode. I wanted to love this episode so much that I told myself I loved it before I even watched it. And then I watched it. And I didn't love it.
Thankfully, the gang becomes aware that Barry isn't dead fairly quickly. It wouldn't have done well to watch them mourn for any real length of time when we knew he'd return at the end of the hour. Cisco is able to vibe Barry, and Wells figures out that Barry is stuck inside the Speed Force. When Cisco goes into the Speed Force to pull Barry home, Barry looks at his friend, and then turns his back on him as he's decided to stay. The Speed Force told Barry that if he left with Cisco, he'd be doing so without his powers.
The Speed Force told him?
Yup. The Speed Force took the form of familiar places (Barry's childhood home, the waterfront where he first kissed Iris, his mother's grave) and familiar people (Joe, Iris, Henry, and finally Nora Allen) to communicate with him. They literally offered him several seats until he was able to admit that he'd never come to terms with deciding not to save his mother last year. For this, I loved the episode. I just re-watched the first four episodes of this season and was struck by the fact that we never saw Barry have one conversation with anyone close to him about seeing his mother again, speaking to her, and then letting her die. That's pretty heavy stuff. I should have known that just like we didn't get to see Iris mourn Eddie early in the season because they had plans to address it later, they were doing the same with Barry. However, why now?
Why did the Speed Force decide now was the time to hold Barry and his powers hostage until he worked through his baggage? How has his unresolved feelings towards his mother's death (the second one) affected him being The Flash, attempting to catch Zoom, etc.? It hasn't. Barry didn't lose his powers because of it. He lost them in a noble act. So why now? Why is the Speed Force being such a dick? And if it has that kind of power, why doesn't it tell Zoom to go sit his ass down somewhere?
If this is Barry's doing – like if he's suffering some kind of mental block – that's equally senseless because, as I said, we've not seen this going on at all.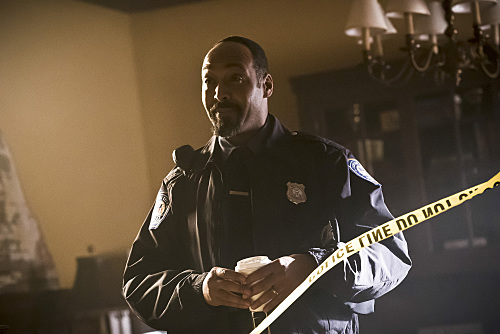 I wish the silliness ended there, but it didn't. Wally and Jesse were hit with the dark matter and she lies in a coma – like Barry – while Wally seems just fine and goes home. He's informed that "Barry is gone," but if anyone elaborates beyond that, we don't get to see it. What he knows and doesn't know is either vague or unaddressed. What's certain is that he still, for some unknown reason, doesn't know that Barry is The Flash. For some unknown reason, Iris is perfectly fine treating her brother the same way she was treated – and hated – last year.
Girder rises from the dead, still strong and still an asshole. He's retracing his steps in the last days of his life because reasons. This means he's chasing Iris around town until the team can figure out a way to stop him, but all plans fail. Suddenly, Cisco remembers that he didn't "lose" Barry in the Speed Force as he'd said earlier. He realizes that the look on Barry's face meant he didn't want to come back. Thanks for figuring that out conveniently late, Cisco. Iris connects with Cisco when he vibes a second time, and this time Barry has worked through his feelings and is ready to come home. Once Girder is taken care of, Barry instinctively knows he needs to touch Jesse's hand for her to wake up, which fit right in an episode where things seem to happen simply because they need to.
Even the moment I've been waiting for since season one fell flat. I've always thought Grant Gustin and Candice Patton had ridiculous chemistry, but even though Barry's words to Iris were everything I've wanted to hear, their chaste hug afterwards was bizarre, and felt clunky and out-of-place.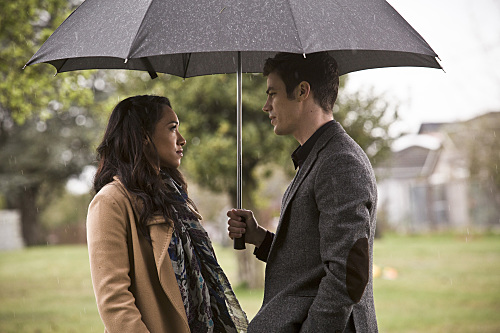 If there's been one highlight of the stupid Zoom <3s Caitlin storyline it's been Caitlin's absence. Everything about the team (when Henry isn't making demands like he didn't dip out on his son after 15 years in jail – you don't even go here, Henry!) really gels. Iris, Cisco, and Jesse have shown they work great together and combined have the talent and resources to be vital members of the team. Now that Henry has decided to stay in town, why do we really need Caitlin? He's a medical doctor and can fill that void. There were a few positives in this episode and Caitlin being gone was one of them… until the stinger showed her arguing with Hunter about calling her Cait (Girl, bye.) and him giving her an ultimatum: be with me or die with your friends. He says this just before rallying a team of meta-humans who look like really bad cosplay at a con.
Other positives include the performances. Grant Gustin's chemistry with Michelle Harrison, who plays Nora Allen, is insane. They've only had one scene together prior to this episode, but they'll make you believe they are mother and son. And Gustin can cry like no one's damn business. And The Flash is finally using Candice Patton to her full potential, showing Iris as a capable and funny addition to the them. She and Carlos Valdes play off of each other wonderfully. I want a web series with the two of them solving small cases using their collective skills.
When I compare this episode to where we were at this point in season one, I wish it had done a better job of building the momentum and tension going into the finale in two weeks.
UPDATE: An earlier version of this review had the actor who plays Cisco listed as Carlos Valdez. His name is Valdes.
The Flash S2E21 = 7.9/10
Plot -

6/10

Dialogue -

8/10

Action -

7.5/10

Performances -

10/10