The Flash – S2E23 – The Race of His Life
Previously on The Flash, "Invincible"
The most satisfying part of the Zoom storyline in this finale was the part where it ended. The season-long threat started very strong, became a tad ridiculous, got super confusing, and then felt just as torturous as watching someone you love being dangled off a rooftop.
The build-up to learning Zoom's identity was great, and this is in large part to the fantastic voice work by Tony Todd. The dark speedster suit with claws, and watching him catch and throw a lightning bolt did the rest. Fan theories raced through the internet – I wasn't immune – but right around episode ten (after the show was done helping set up Legends of Tomorrow), it became obvious Jay was Zoom. If he wasn't Zoom, then the show had introduced the iconic Jay Garrick as a sketchy whiner who disappeared for long periods of time, and shot down every idea the team had when he was around.
When you consider that while he was doing this, Zoom's motives seemed to be all over the damn place, it's a wonder more people didn't figure it out sooner. Granted, everything we knew about Zoom in the beginning came from Zoom himself, but his actions never really meshed with what Jay was saying. First, he wanted to be the only speedster on any Earth. That should have been a hint right there because it implied that Jay knew Zoom could travel to (and had been to) other Earths. But if he's so terrifying (Jay's own words: "Zoom's a nightmare you can't wake up from."), why was he sending low-level meta-humans to kill Barry? Then he wanted to steal Barry's speed (with no explanation from Jay how Zoom could do it or did it to him – though he later admitted that he lied about Zoom taking his powers), but first he wanted to fatten Barry "like a Christmas goose."
After being stuck on his Earth for a bit (minus one hostage in Jesse), he was back to wanting Barry's speed and Caitlin. Once we learned that "Jay" was Zoom, and we knew Jay was truly dying, his earlier exploits make even less sense because he wasn't acting as someone who wanted them to work on a cure. In fact, he actively and loudly pushed them to leave Velocity alone. Once he killed his time remnant, he was stuck on Earth-2, still dying and just waiting for Cisco to figure out how to open breaches – though he had no way of knowing they'd even decide to go back to Earth-2 to stop him. We later learn Zoom can open his own breaches so why was he chanting on the other side of the breach for Cisco to make it work?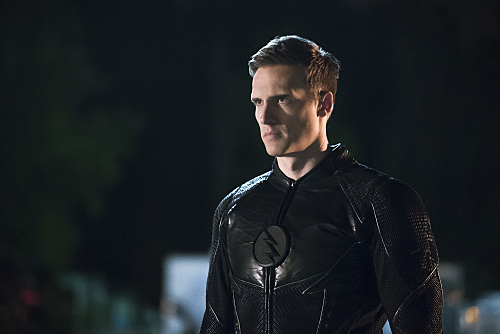 But, fine, he's cured, he has Barry's speed, and he has the girl. However, the girl doesn't want him so it's back to Earth-1 to rule it.
Once he brought Central City to heel, he set loose his neighborhood meta-humans to distract everyone while he stole tech from Mercury Labs; tech he needed to use (along with his and Barry's speed) to destroy the entire multiverse save Earth-1, which he will rule.
When did that hot-ass mess become the plan? Because there were a few moments when he was legit going to kill Barry and others where he damn near killed him, and, oh there's the time when he took Barry's speed. Either way, whether all of those things were part of the plan all along or pivots he made for reasons, by the time we got to episode 23, I was exhausted and didn't even care.
In this finale, after Barry is tranquilized and locked up by his own team, an attempt to send Zoom back to Earth-2 ends with Joe going with him. Team Flash understood the risks and agreed ahead of time they wouldn't try to save anyone who went through the breach with Zoom. Of course, the two people who didn't get a vote in this decision – Wally and Barry – disagree, and Wally frees The Flash so he can get their father back.
This means racing Zoom to set off the multiverse-destroying device, but Barry takes a move from Zoom's playbook and creates a time remnant who is willing to die to foil Zoom's plan. The Time Wraiths that bugged me in "Flash Back", finally make an appearance to whisk Zoom into the Speed Force and to his death, presumably.
Good riddance.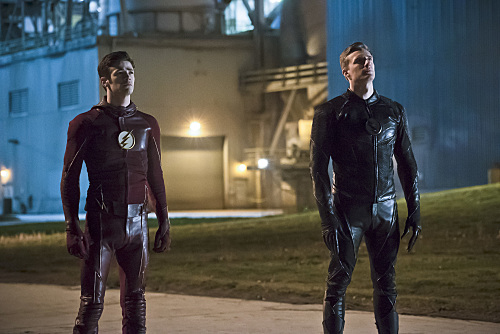 The day is saved, but Barry isn't happy. How could he be? Just as he'd made peace with his decision to let his mother die, he watches another parent die in front of him. To make matters worse, the man in the iron mask is revealed to be the real Jay Garrick from Earth-3, and he's Henry Allen's doppelganger. Even though I called this weeks ago, it's a testament to Grant Gustin's acting that watching Barry look at the man he just put in the ground was so heartbreakingly effective.
Despite his superhero status, Barry Allen has spent the past 17 years wracking up a lot of Ls. So, it's understandable that even after finally getting the girl of his dreams, Barry decides to go back in time once more and this time save his mother, wiping out of existence the version of himself that waited in his childhood bedroom last season.
Season three seems poised to explore this new reality – hinted at all of season one – where Barry Allen grew up with two parents and married Iris West. This is a bittersweet development, and not just on the WestAllen front. I like the idea of Wells and Jesse, returned to Earth-2 free from the threat of Zoom, being able to live out happy lives in their world. I suspect we might get to finally meet the true Earth-1 Harrison Wells this fall. Without interference from Eobard Thawne, maybe he and Tess have a daughter named Jesse.
If Barry and Iris are married in season three, what does this mean for the rest of the West family? Did Francine leave when she was pregnant with Wally? What about S.T.A.R. Labs and Cisco and Caitlin? Can we please get Tony Todd in season three somehow?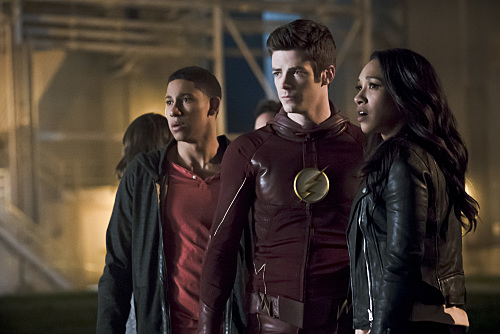 I'm optimistic that exploring this new timeline will be infinitely better than this season's Zoom storyline, which was all over the place in two worlds.
Come back to Project Fandom on Friday to read my Flash Season Two by the Numbers breakdown and season three predictions. 
The Flash S2E23 = 9.3/10
Plot -

7/10

Dialogue -

10/10

Action -

10/10

Performances -

10/10