The Flash – S2E4 – The Fury of Firestorm
Previously on The Flash, 'Family of Rogues'
This was the blackest hour of TV this week. Blacker than Monday night's Being Mary Jane and blacker than tonight's Black-ish. Just black for no damn reason. And despite a few flaws, I loved it. Though I really want to know how many people of color are in the writers room. I would love to see them nail writing for black people as well as they write about time travel and meta-humans. You know, things that don't actually exist.
The Fury of Fiyastorm
The night of the particle accelerator explosion, a high school star-athlete, Jefferson Jackson, has just played the game of his life. Scouts were in attendance, and took notice. Unfortunately, Jacks is hit with the dark matter as he tries to save fellow teammates from the blast.
In present day, Stein's condition is getting worse and the team determines he needs another person (like Ronnie) to merge with. Caitlin has narrowed it down to two candidates who were also affected: a scientist, Henry Hewitt, and Jax, who is now an auto mechanic. After Barry illegally obtains their blood samples, Caitlin runs tests to find a definite match.
They're both possible matches, but even though Jacks is more compatible on paper, Caitlin wants to go with Hewitt because he's a scientist and wants to "make something of his life." Basically, she dismisses Jax like his resume says Leroy Rayquan Jenkins. *eye-roll*
The team splits up to meet with both candidates. And Harrison Wells is just walking the halls of STAR Labs like he pays rent.
Barry and Stein meet with Jacks at his garage. Stein points out his skills working on cars may hint at a strong aptitude for engineering, but notes his allergies may be a negative. It doesn't matter because Jax isn't interested in anything they're selling as he doesn't like talking about how the explosion changed his life and dashed his pro-ball dreams.
They return to the Labs to discover that not only has Caitlin told Hewitt all the details around the Firestorm matrix, she brought him back to the Labs and let him in on everything – including that Barry is The Flash. Well, since he's already there and Jax said no, they attempt the merge. And it doesn't work.
Good. 
Then Hewitt shows his natural black ass before storming out. Not firestorming out. Just regular pompous asshole storming.
Jax comes into STAR Labs and once he hears the proposal, he's like:
Caitlin loses it and basically insults Jax for not immediately jumping at the chance to "converge" with some old white dude and shoot off nuclear blasts. Oh, and for not going to college. Caitlin stomps off to get Hewitt back.
Hewitt, as it turns out, is an even bigger asshole than first thought. He's rude, arrogant, and almost roasts his boss for having the nerve to ask for a late assignment. He causes an explosion in his lab and it makes the news. Yeah, the merge may not have worked, but the attempt has activated his dormant power. Oh, and he has a criminal record for assault. I'm pretty sure Hewitt is the type of guy who uses #NotAllMen and #AllLivesMatter.
Caitlin feels dumb and Barry attempts to make her feel better by saying maybe it's time they both make themselves open to new things. (I will tell you my thoughts on this line on tonight's podcast.)
She visits the garage to apologize to Jax, and explains about Ronnie. Jax forgives her because this guy is awesome. Hewitt shows up, blasting things and ranting about how Caitlin got his hopes up and didn't deliver. I'm telling you, this guy is THE WORST.
Jax uses his QB arm, throwing something that hits Hewitt upside the head and temporarily knocks him down. They escape in Caitlin's car and head back to STAR Labs. Once there, they don't have time to tell the team about Hewitt because Stein's condition has worsened. Jax agrees to help.
"Out of yourself and into the team."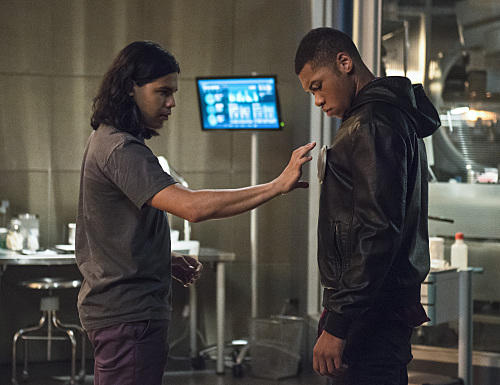 New Firestorm's first mission? Head to the high school field where Hewitt is currently acting a damn fool.
"Hewitt, you need to stop. This is not who you are!" – The Flash
Uh, this is exactly who he is!
With an assist from Caitlin and Cisco, The Flash and Firestorm manage to contain Hewitt (by insulting his manhood – I'm telling you, Hewitt hangs out on women-bashing Reddit groups), who is promptly given new accommodations in the particle accelerator.
Before they leave town to train in Pittsburgh, Stein advises Cisco to tell his friends about his power. Listen to him, Cisco!
Bye, Felici- Francine
Iris agrees to meet with her mother, with Joe in attendance, at Jitters. Iris only allows Francine an apology before she says she wants nothing to do with her mother.
Later, Francine shows up at the CCPD and tells Joe she has a disease and only a few months to live. She really wanted to make things right with Iris. Joe tells Barry first, convinced Francine is telling the truth because he knows her and she wouldn't lie about something so big.
You haven't seen her in 20 years, Joe!
Iris meets with Francine again, but this time she's done her homework. She knows Francine is telling the truth about her illness, but she also knows Francine had a baby boy 8 months after leaving town. Feeling lied to again, Iris tells her mother she wants nothing to do with her.
I'm not sure when Francine was supposed to tell Iris any of this news when the woman has barely been able to complete a sentence, but okay.
Shark Boy and Java Girl
Patty is investigating a case involving a meta-human who may be a man-shark. Or a land-shark. Barry agrees to run tests on teeth she found after some awkward flirting, which Joe picks up on. Joe lays down some Black Fatherhood and tells Barry that if he's into Patty, he should go for it. He can't let what might have been, but wasn't, with Iris stop him from finding something new.
There's a break-in in the Applied Sciences department of Mercury Labs. The burglar gets away, but not before Dr. Tina McGee gets a good look at him: Harrison Wells. Appreciating the discretion Joe has shown in the past, McGee calls him in. He insists that the man she saw couldn't be Wells, and he warns Patty not to tell Barry about their investigation since Wells is the man who killed his mother – which Patty should have known since she's Barry's stalker it was probably on the news that the famous dead scientist left a taped confession that freed a man who'd been in jail for his crime for 15 years.
"I'm not good at lying."
"You better start."
When will Joe learn to stop lying to people for their own good? Ugh.
After the dusts settles, Barry contemplates a second chance at love as he (as The Flash) watches Patty in Jitters. He's suddenly gripped up by a giant shark man, sent by Zoom. Patty fires her gun at it, but it drops The Flash and keeps coming. It stops when a mystery man in a hoodie shoots it with some kind of energy gun.
The mystery man is Harrison Wells. And I screamed.
The Flash S2E4
Plot -

8/10

Action -

8.5/10

Dialogue -

8/10

Performances -

9/10

Meta-Humans -

10/10
Summary
The most frustrating part of the West family storyline is how bad the dialogue is. I can forgive Iris being so dismissive the first time she met her mother (she's angry, hurt, and truly doesn't owe the woman anything), but for her to be angry because Francine didn't open with, "I'm alive. I was an addict. And you have a brother," is ridiculous. Their second meeting should have been the time when Iris allowed her to give answers. This is clearly done so that we don't get much information about whatever twist/reason was behind her leaving – and I'm assuming the brother is Wally West – but there are other ways they could have written that without making Iris look so petty. However, if she later acknowledges she was so upset that she didn't give Francine a fair shake, I'll forgive it.
The writing around Jax was fantastic. The opening alone was the perfect example of tight writing – in less than two minutes I knew exactly who this young man is: smart, talented, close to his mom, and willing to help others. His pairing with Victor Garber has me even more excited for Legends of Tomorrow.
While Patty is growing on me – somewhat – the best part of the man-shark/Mercury Labs storyline was the arrival and reveal of Harrison Wells. Because Tom Cavanagh is bae and I'm here for Earth 2 Wells. He looks like a smarmy badass and I love it.