The Flash – S2E7 – Gorilla Warfare
Previously on The Flash, 'Enter Zoom'
What the Bae Ordered
Barry isn't healing fast enough for Barry. Zoom didn't take his powers, but even a speedster needs time to rebound after a spinal injury. Despite the support and encouragement of Joe and Iris, Barry spends much of the first half of the episode sulking and sitting on his pitty pot. Not that I blame him. Zoom beat dat ass and then took him on The Petty World Tour. That, too, will take a minute to get over.
Iris, as the person who knows Barry the best, figures what he needs is his father, and secretly calls Henry Allen.
After confirming that Barry is physically healing just fine, his diagnosis is that Barry is suffering from a debilitating case of Shame. One daddy pep-talk and Barry's good to go. His work done, and the day saved, Henry heads back to his tent in a national park.
Henry's visit get Joe up in his feelings a bit about not having son, which Iris notices. Looks like she might be giving Mama West a second chance in the near future.
You Can't Go Home Again
E2 Wells clearly isn't one to lick his wounds for too long. He decides it's time to go home to stop Zoom on his own turf. Caitlin thinks that's a stupid idea: He needs to stay and figure out how to stop Zoom there, with the team. The rest of the group disagrees, citing the failure of Wells' last plan. Everyone is conveniently forgetting that wasn't Wells' plan. It was Iris' and Barry's, but okay.
Caitlin, the person who has been the most anti-Wells, has decided it's her personal mission (for this episode) to get Wells to stay.
As she's trying to convince him, she mentions that Dr. Stein figured out how to close the breaches and Wells proposes they close all the breaches except the one in STAR Labs, this way Zoom only has one way in or out. Why this wasn't already done (to make sure he's not dropping off more meta-humans in hard to find places) is beyond me. So, they decide that's their play: lure Zoom through a breach and set a trap.
[pullquote align="right" cite="" link="" color="#4a7097″ class="" size=""]"Grodd's a big-ass gorilla. He can't just waltz through downtown in the middle of the day without anyone noticing." – Joe[/pullquote]
I'm pretty sure that was last week's plan as well and we see how well that went. Shouldn't they be figuring out how to kill/stop Zoom once he gets there? Getting him there and watching him leave aren't the issues.
None of this matters in the end, because Grodd.
King Grodd
Grodd is back and he may not like bananas, but he certainly hasn't skipped any meals. He's bigger than before and compelling scientists (via his mind control abilities) to steal serums he needs to create more sentient gorillas. Aw, Grodd is lonely.
But he's no scientist, so he also compels Caitlin to leave the Labs and holds her against her will until she can make him some babies. Not like that! This also explains why they had her walking around in that bright-ass white suit after Labor Day.
Barry has to literally sit around spinning his wheels while the team, plus Wells, devises a plan to get Caitlin back. Meanwhile, Caitlin tells Grodd she doesn't know how to make more like him.
"Learn!"
So, basically, Grodd told Caitlin what I've been saying since season one: "Make yourself useful."
Grodd is traced to a bell tower (as Cisco said, "He upgraded like a baller.") and Wells goes in undercover as Reverse Flash (courtesy of an extra suit in Wells' Secret Room of Lies). It works until he displays manners Thawne never possessed, and then Wells is slapped across the room. This is enough of a distraction for Cisco to hustle in, equip Caitlin with some anti-mind control earbuds, and pull her to the door.
They don't abandon Wells, though, and listen in as he keeps up the charade and gets close enough to Grodd to inject him with the stolen serums, knocking him out.
The new plan involves Caitlin as bait, Barry speeding Caitlin through the city with Grodd following, all to position him in front of a breach that will deposit him near a Gorilla-friendly place on Earth 2. It goes off without a hitch… kinda… but only once Caitlin talks Grodd out of squashing Barry like a roach.
Still Not Here for Patty Mayo
Patty pays attention to her detective intuition and figures out that Barry's excuses for avoiding her (he's sick) are pretty much bullshit. It doesn't hurt that Joe and Barry are so shitty at lying.
She later confronts Barry about it, and he uses the old "My ex-convict dad was in town," excuse. She accepts it, but warns Barry has to trust her if they're going to work. And even though HE JUST LIED TO HER, he's all, "Aight."
And they kiss and I feel hoodwinked.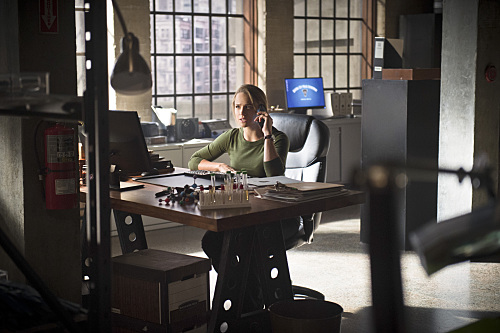 Got That Vibe
Cisco's date with Kendra is cut short when he vibes vision of a man with wings. He makes it up to her with a basket of chocolate and flowers (throw in wine and I'd marry his ass), and she rewards him with a kiss, which vibes a better vision of the winged person: It's Kendra.
Leave your thoughts on the episode below and we'll read them on tonight's podcast!
The Flash S2E7
Plot -

7/10

Action -

7.5/10

Dialogue -

7/10

Performances -

8/10

Meta-Humans -

9/10
Summary
I can't wait for Legends of Tomorrow to launch so Arrow and The Flash stop feeling like they only exist to set up that series. Grodd's return was cool. Seeing Gorilla City was cool. But having the main plot lines (and some forgotten plot lines) sitting idle is getting old.
My theory that E2's Henry Allen is Zoom got legs (heh) when Henry referenced fishing… just like Zoom. Okay, it's stretch, but I'll take it.
How did Wells know what the other Wells had told Grodd about having the city? Where the hell is Jay? Why haven't they closed all the breaches except one they can control? Why the hell aren't they using Candice Patton more?
But, hey, Barry has a ring now. So that's cool. I guess.