The Flash – S3E1 – Flashpoint
Previously on The Flash
The first time Barry Allen went back in time to stop the Reverse Flash from killing his mother, he did so with his friends' and family's blessing. This time, not so much. Still reeling from the death of his father, Barry went back to the night his mother died and stopped Eobard Thawne. Then he zipped the evil speedster back to present day, keeping him contained in a prison that dampens his nemesis' speed (Thanks, Zoom!).
Everything's coming up Barry when season three begins. He's working at the CCPD as a CSI, he still lives at home with his parents who are alive and well and very much in love. And the girl of his dreams said yes when he finally built up the nerve (after three months) to ask her out.
It's the love that Barry has for Iris West and her family (his family, too, in the alternate timeline) that causes him to realize he made a mistake in messing with time. In this timeline, Joe West is not dispensing that Black Fatherhood we love so much; he's a drunk in danger of losing his job and doesn't speak to his kids. Wally West is Kid Flash (The Flash if he's reading this), chasing down meta-humans in Central City with the help of his sister, who is in on his secret identity. When Kid Flash's foe, another speedster called The Rival (clearly he doesn't have a Cisco to name him), leaves Wally gravely injured, Barry finally faces the fact that his happiness came at the expense of others.
Prior to the tragic events, Barry was all too willing to accept that his flashes of his past life and memory lapses were caused by this new timeline settling and erasing the old one. Clearly he wanted no parts of the old one; hence, he changed it. But sometimes Barry needs to learn lessons the hard way. He decides the West's happiness wasn't his to take, so he asks Reverse Flash to travel back to that night with him and kill his mother. With way less "I told you sos" than I thought capable, Eobard does just that.
However, after three seasons we understand that changing timelines – even when you're changing them back to how they were – has consequences. When he returns back to the right timeline, his father is still dead, he and Joe and Wally are living together and still close, but Iris doesn't have a relationship with Joe at all.
Thanks, Barry.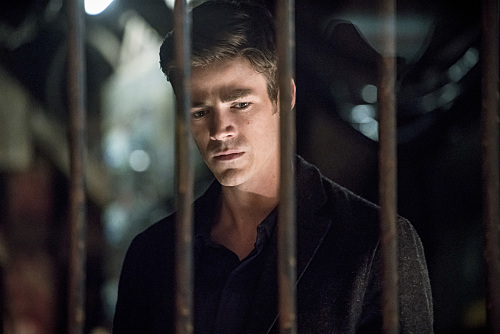 But Wait; There's More
The Rival is awakened in his bedroom by a voice calling him to the mirror. The word ALCHEMY is being scratched into the glass by an unseen person.
Up to Speed
Tech tycoon Cisco was living the life! And he still managed to help the community by (reluctantly) providing Wally with his suit.
Many great WestAllen moments, proving that no matter where or when these two were meant to be.
Love having Reverse Flash back. Since season one ended, they've found creative ways to revisit this villain who isn't yet done causing trouble. And the music they play when he's his most devious is great. Also, Barry taking him Big Belly Burger harkens back to feeding the meta-humans looked in the accelerator. Big Belly Burger: When You Care Enough to Serve the People You're Illegally Detaining the Very Best.
I'm not the biggest fan of Caitlin, but her small part in the episodes brought some comic relief.
Barry with his parents was beautiful and heartbreaking. They always do such a wonderful job selling that they're family and love each other.
Speed Bump
Didn't expect to say goodbye to this new timeline so quickly. I wanted to see more changes. Still, it's good to know its effects will still be felt as Barry tries to readjust to his old timeline.
The Flash S3E1 = 9.3/10
Plot -

8.5/10

Dialogue -

10/10

Performances -

9.5/10