The Flash – S3E7 – Killer Frost
Previously on The Flash, "Shade" 
The Flash – S3E7 – "Killer Frost" | Starring: Grant Gustin, Candice Patton, Jesse L. Martin, Tom Cavanagh, Carlos Valdes, Danielle Panabaker, Keinynan Lonsdale, Tom Felton, Violett Beane
Ay yi yi. 
This episode wasn't bad, but it wasn't great either. It definitely didn't live up to the hype – and neither did the other Kevin Smith directed episode "The Runaway Dinosaur." Much like that episode, the reason "Killer Frost" didn't work for me has nothing to do with the directing; it's the writing I have a problem with. In "Dinosaur," we were hit with things we had no idea existed: Barry is struggling with not saving his mom and the Speed Force is capable of keeping Barry and communicating with him in the form of his loved ones. Okay. Sure. This week, Caitlin's power makes her evil. For reasons.
After Savitar makes off with Barry in a trip very much like the You Ain't Shit Tour Zoom took him on, Caitlin and Cisco use their powers to track them down and Caitlin freezes Savitar. This massive use of her power awakens Killer Frost and saves Barry, but Savitar gets away.
While everyone worries about getting Wally out of his chrysalis, Caitlin sneaks off to the CCPD to interrogate the lone Alchemy disciple they were able to capture. She's busted by Julian so she kidnaps him and demands he figure out a way to locate more disciples. She hopes one can lead her to Alchemy, who can then take away her powers… because the villain would totally do that for her. Caitlin ends up injuring Julian with her powers before Barry comes to knock him out and try to talk her down. She blames Barry for everything, citing his desire to make sure his life was perfect and how it ruined hers and Cisco's.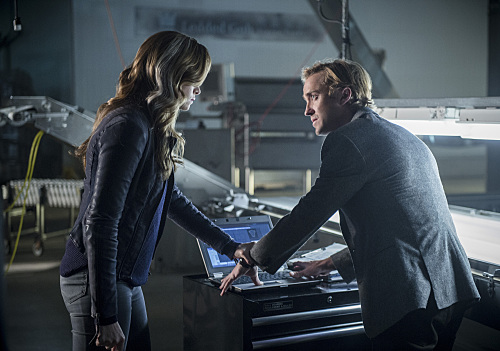 Since Barry didn't bother to disguise is face or voice, I'm assuming Julian figured out he's The Flash since he knows Caitlin is Barry's friend. More on that in a bit. (However, if not, I'm calling bullshit.)
Then Caitlin drops a bomb I hadn't considered. She tells everyone that Dante was alive before Flashpoint. Now, I thought everyone could assume the things Barry didn't know about were different in Flashpoint, like the Speed Lab. So, if Barry doesn't know Caitlin has powers, and he didn't know that Dante was dead nor that he and Cisco fought over it, it would stand to reason that those things weren't in Flashpoint. I guess I was wrong, because this news both shocks and angers Cisco. He has to put his feelings aside, though, in order to locate Caitlin after she takes off in search of a disciple.
When Caitlin finds one, he tells her he has no idea who Alchemy really is, and that they both serve a higher power who showed them the future. In it, Killer Frost is glorious. Barry and Cisco eventually take Caitlin down and lock her in the pipeline.
Meanwhile, everyone is acting like they don't know how cocoons work. They're acting like they don't know Alchemy restores powers and that the meta-humans leave behind a husk. So, Joe takes a power tool to it and it explodes. Wally is a vibrating mess and speeds off. Maybe if they'd just let the poor guy finish cooking…
Anyway, back to Caitlin Barry goes, because they need a doctor for Wally. After he delivers a mega-Flash pep talk, Caitlin is able to resist her inner Killer Frost and make a serum to help Wally. The day is saved, but now Barry needs to convince Julian not to snitch that the ice-wielding meta-human who terrorized the city that night is Caitlin. Julian agrees, but only if Barry resigns from his job because anyone who would put aside justice to help a friend clearly doesn't deserve to work in law enforcement. Of course, Barry agrees. He already feels guilty and Cisco still lowkey wants to kick his ass.
Also, Julian is a whole bitch. And Alchemy. I guess. Ugh.
Quick Hits
HR is still the man. I love the different versions of Harrison Wells we've seen and Tom Cavanagh has done an amazing job making them all unique. And it's cool that he actually is a muse to the team.
The Greg Grunberg cameo as a police detective we've never seen before and will probably never see again was nice.
Iris is fantastic. She's fierce, loyal, and supportive. I know we've all been a little tired of Barry needing constant reassurance, but that's the character and I guess we just need to get used to it. I have my fingers crossed Iris will have more to do with her own storyline after the crossover is done.
Wally is adorable. He was so happy to have his speed.
Speed Bumps
So, that's it with Killer Frost? Are we not getting the fight between her and Vibe? Or is that still to come? Will Cisco be the evil one when and if it happens? That would be a welcome twist.
Why does Caitlin's powers make her evil? Can they counteract that with more pep talks should they require her services?
Savitar is cool to look at, but lacks the quiet menace we got from Reverse-Flash and Zoom. I don't fear him. I don't care what he wants. He's just here and we have to deal with him eventually.
Why, oh why, is Julian Alchemy? Can we not do the whole, "the bad guy is in our midst the whole time but only the audience knows" again? I'm hoping that Julian (who they've shown over and over again to be brilliant) did figure out Barry is The Flash and since he seemed to be resisting Savitar's call, maybe he asked Barry to quit because he knew Barry would be in danger around him. Please let it be that. Actually, I think I would just prefer it if Julian wasn't Alchemy at all, but alas…
The Flash S3E7 = 7.9/10
Plot -

7/10

Dialogue -

8.5/10

Action -

8/10

Performances -

8/10